Soundproof glass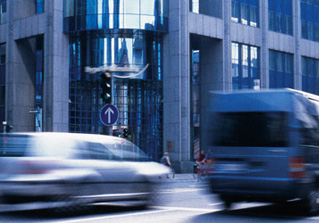 Noise is an increasingly serious problem in modern society. Growing numbers of people are exposed to noise on a permanent basis due to rapid growth in urbanisation and rising traffic volumes. Numerous scientific studies verify that noise can cause both physical and mental diseases and disorders. Effective soundproofing is an increasingly significant approach to avoiding these problems.
Multifunctional insulation glazing with integrated soundproofing by NOWAK GLAS can make an essential contribution in this respect. After all, soundproof glass plays a major role particularly in view of the trend to large glass facades in modern architecture. Transparent structures generate more natural light, while the inclusion of nature in the building's aesthetic design makes special demands of suitable glazing, particularly also where soundproofing is concerned.
No matter how high your demands are in terms of soundproof glazing: you'll be convinced by our NOWAK GLAS product solutions!